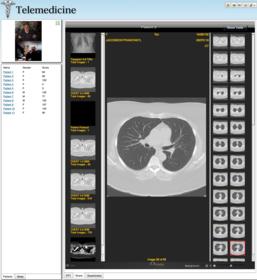 At Brigham and Women's Hospital, medical experts are using a "Radiology Theatre" to "make rounds" on a patient — no matter where the doctors are located. Using the Radiology Theater, teams of medical experts can simultaneously discuss and review patients' MRI, CT scans and other medical test data using a Web browser.
IBM's Blue Spruce is the technical foundation of Radiology Theater. IBM researchers have combined different Web components -- data mashups, high-definition video, audio and graphics -- all on the same browser page allowing multiple users to "cobrowse" or interact with these components in real-time and see each others' changes. All of the components are live and all participants can cause change that will be propagated in a secure manner.

With the infusion of tens of billions of dollars in stimulus funds devoted to health IT, projects like this are the tip of the iceberg in terms of how technology can improve patient care.